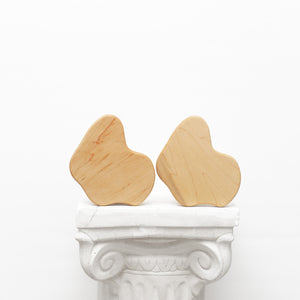 Sienna Studios
The Sienna Coaster (Hard Maple)
Regular price
Sale price
$50.00
---
The Sienna Coaster (Set of 2)
Wood Species included: Hard Maple

*This is a Sienna Studios original*
We collaborated with A9 Designs on the production of making The Sienna Coasters into wood. They are available in 4 different wood species including: White Oak, Hard Maple, Peruvian Walnut & Lacewood. Peruvian Walnut & Lacewood are exotic woods that were selectively chosen by Sienna Studios with your home in mind. 
A9 Designs is a fabrication studio located in the San Francisco Bay Area, crafted from a deep rooted passion for tactile crafts and fine goods. He handcrafted all of the wood products you'll see with care and precision to ensure you receive only the best possible product. He meticulously ensures every detail of the product is tended to during the fabrication process, including the final finish. 

Details:
Each wooden piece is food contact compliant (food-safe), which means it can be used on wood that comes in contact with food such as countertops, cutting boards, and tabletops.
No toxic ingredients, plant-based, 100% VOC-free.

Content care:
+ Water/damp cloth.
+ It is strongly recommended to wipe up strong contaminants as soon as possible.
+ Avoid harsh cleaning products & harsh scrubbing. This will damage the surface of your piece.
+ Light rings from cups and plates, mix 1:1 baking soda and toothpaste. Gently rub in a semi-circular motion until the stain is gone. Wipe off excess with a clean small cloth towel.
+ Dark spots from water and food soak a clean cloth towel in white vinegar and blot the affected area. Wait until the stain lightens or is gone and repeat as necessary.
+ Additional hardwood care instructions by A9 Designs here!
Material:
+ Wood
+ Rubio Monocoat
+ Hard-wax oil finish
+ Luster Finish

Dimension:
5.5in x 5.25in
0.5in thickness

*DISCLAIMER*
+ Every piece is handmade. Slight variations in color/grain pattern are natural and unique characteristics of each wood species.

Returns:
+ We will not be accepting returns due to each piece being handmade. If your item arrives broken/damaged, please contact us on the day of delivery.